We all dream of fairyland. How beautiful it would be to see your dream fairyland in your backyard. But to make dreams come into reality, lots of determination, unique & creative ideas, time, self-discipline, dedication, and most important, efforts are required. Today it is about how to make an indoor fairy garden?
How many of us think that fairy gardens require a massive container that costs much. Isn't it? Well, we exaggerate scenarios until and unless we don't put them into action.
Let's discuss some creative and unique fairy garden ideas that everyone can implement.
How to make an Indoor Fairy Garden
Well, a fairy garden is a small or large cultivated space in your backyard or near a tree in a pot with miniature-sized plants and accessories. The purpose behind setting up this dreamland is to assume that fairies live here. Fairies can be placed in a garden or hand-picked. In short, habitat of fairies according to their glamour, beauty, and imagination where no civilian exists.
Tighten your seat belt and let's discover some unique ideas that are possible to implement with some craft supplies, potted plants, and hot glue.
Read the article for fun ideas and inspiration to get start your own fairyland.
TeaCup
We all waste our time by watching DIY indoor fairy garden ideas on youTube and never implement them, not a single idea. Start from today and implement at least 1 idea a day!
One of the easiest and most favorite fairy garden containers is a teacup. Use old or broken teacups for fairy gardens. Turn your teacup into Alice wonderland. What a whimsical look!
Teacups are small in size but the mini creature would give it a fantastic look that no one can resist himself from appreciating the creativity of the artist!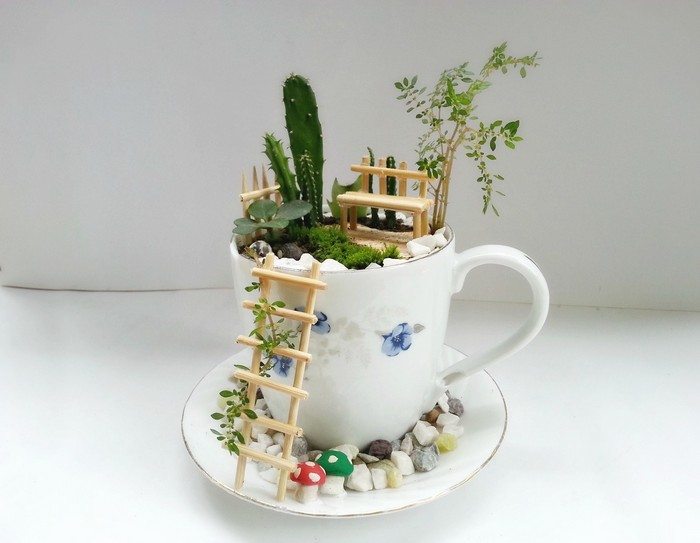 A teacup fairy garden is so adaptable and effortless. Need is to purchase a house along with its accessories and put them at the right place in a teacup. If you're found of objects created with clay, go for it. Multiple indoor plants can grow inside a teacup like succulents.
Do you need some visual representation? Go through this teacup fairy garden video to learn something extraordinary.
Old Lantern
The lights in the fairy garden make it a home of all seasons and in one word delightful. Firefly lights effect is easy to achieve with battery-operated mini lights. Lighten old lantern with mini lights and let your fairy enjoy teetering.
It feels like a fairy is enjoying the evening time where light is focused on her beauty and she is looking at the sky full of stars.
When it comes to a lantern we all ask a question that how to convert an old-fashioned lantern into a creative and mesmerizing fairy lantern?
Take a vintage-style lantern without glass sides so that light can pass through it. Plant indoor plants at the bed of the lantern and avoid too much adornment with artificial objects because it will fade the beauty of the indoor plants.
Flowered foam is used to clasp the display at its place. Add a swing and a chair near to it, a fairy on the swing, and other accessories. See, your perfect darling fairy sketch is ready to exhibit in the garden.
Flowerpot
Multiple flowerpots are used to set up a large fairy garden. If you're obsessed with green household plants, you may tuck them in flowerpots ranging from large to small in size.
If you're a newbie, start with some simple flowerpots and then decorate them according to your imaginary fairyland. Work on your houseplants, decorate its groundcover with small stones, marbles, or moss.
You can simply make the ground floor with clay. Put accessories and fairies at their specific place and lighten the pot. Your small fairy pot is ready!
An old alarm clock
YouTube crafts videos must include old wall clock fairy garden. It's a totally different case where a base is used as a stage for indoor plants.
It's so fascinating and mesmerizing. Surround it with multiple topiaries and place a swing at the center of it.
A succulent indoor plant is suggested for this type of display because it creates "spill-out" effects. A string of precious pearls, battery-operated lights, and rock crops enhance its beauty.
Imagine a stage cover with greenery, white lights, and stones or somehow water flows from these stones towards the ground and more overall your fairy is teetering.
A lot of different possibilities to adorn an old clock according to your style and thoughts exist. You just need to turn thoughts into actions.
A Tiny Fairy Cabin
Tiny Garden house means a fairy cabin with a bit of bark and a huge container. It would be a wooden pot covered with a roof-shaped lid. Carefully trim the piece of bark for a door and attach it to the wooden pot with hot glue.
Use an empty snail shell or a small size stone as a handle on the door. Yay, you're done with your fairy cabin quickly!
Drained Aquarium
An old aquarium with lots of leakage points is suitable for large container fairy gardens. Did you desire a fairy villa? Well, an old aquarium will be perfect for creating a villa where lots of imaginary thoughts can be implemented.
Here you don't need to limit your thoughts because you'll find large space.
Cover the bed of the aquarium with grassy plants. Place artificially made accessories in the right position. If I was supposed to make an aquarium-based fairy garden then I will architect it as a little hut in a corner, sitting area, and a wing. Not only this but a canal view or probably a bridge over it.
A Babbling River
It's an old myth that fairies are seen on the sea surface. So what about adding a beautiful stream to a fairy garden? A babbling river comes in different shapes, sizes, and color that suits your needs.
Well, a babbling river is full of artificially grown bubbles that give a light blue impact. At the bank of the river, green grassy plants are planted that are 1 to 2 inches high in height.
It feels like a river surrounded by lush push greenery and in that greenery, there's a sitting place. Who wouldn't love to enjoy coffee at day end there? You can create a line using stones across the babbling river to keep it separate from the indoor plants.
Fairies are around the sitting place and enjoying the evening.
Old Suitcase
Who knows that old suitcase would be used as a fairy garden? A small, multi-colored vintage-style suitcase is the perfect spot for the fairy garden.
Try to cover its base with a protective shield so that water doesn't come into the contact with the suitcase. If it happens, be ready to face the corrosion problems.
Well, after protecting it with a shield, add rocks to make the drainage system up to the mark. This will probably help you to get rid of dust too. Now use plants and mosses to exhibit an excellent fairy display.
How would it be so mesmerizing and exciting if we add a brick-made cottage to it? A small fairy house is easily available in markets. Place fairy, accessories, and cottage at its right position.
Mason Jar
you'll see millions of views on a YouTube video where a glass bottle is used to create an artistic item. People use it as a pot for indoor planting and place it on side tables, kitchen windows, and couch areas.
Similarly, you can create your imagined fairy garden in it. Succulent plants, as well as plants, having thin but bigger leaves are preferred for bottle-based fairyland.
Look at the available accessories and place them into the bottle where you find enough space. It feels like a fairy has been lost and roaming here and there are lush push green fields.
Draining Tray
Would you believe that a drainage tray would be perfect for a fairy garden? If you show your talent and work with dedication then it can be converted into a realistic, beautiful, and eye-catching tiny hobbit house.
Use a bonsai tree and miniature for creating a copy of the Bonsai Empire.
An old cottage with a roof made up of bricks surrounded with rough and lush push greenery looks natural and homemade. Various other things could be added to maximize the natural impact.
Containers for a Fairy Graden
Multiple flowering pots in a larger container can be used to create a fairy garden. You'll be amazed to see its gorgeous effect.
Another way to create a larger fairy garden is to connect multiple pots via bridges and cover bridges with some sort of climbing vines. If you don't like this mess, various fairy garden planters are available in the market at reasonable rates. Choose one of them of your choice! How simple is it!