Enjoy a beautiful lawn by learning how to grow grass in clay soil. Having a lush backyard or a lawn is desired by many people. When you have barbeques in your home, you want to be a gracious host and you want your guests to feel welcomed.
A green lawn can make a very positive and welcoming first impression on your guests. But if your lawn is not vibrant it will give a very gloomy look.
 Usually, lawns don't become vibrant because of the hard and stubborn clay soil. If you want a beautiful lawn that will be appealing to you and will welcome all of your guests, you will have to treat that stubborn soil.
Luckily for you, we have done some research and we will discuss how to grow grass in clay soil.
How to Grow Grass in Clay Soil
Let us learn the essentials for growing grass in clay soil.
Testing the density:
Having a completely green and lush lawn can seem very welcoming and admirable. A well-maintained lawn also improves your homes' appeal. It also radiates positive vibes.
But if you have clay soil in your lawn, perfectly good soil can also look hard and solid. To treat your lawn properly you need to first determine what kind of clay soil are you dealing with. If you give your soil the right treatment it will be ale grow grass in no time.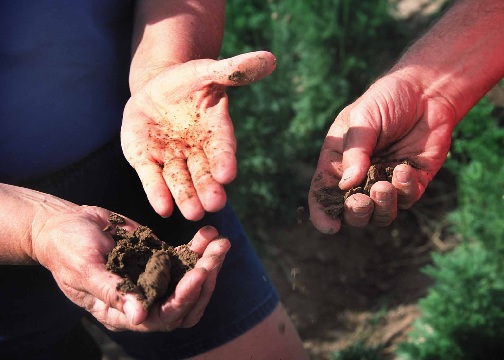 To test the density of the soil you will have to scoop half a cup of soil and soak it with a few drops of water. You will have to do this in your hand as you have to make a ball with the soil. 
Now if the soil breaks at 1-inch, it is loam. If the soil slits at 2 inches, it is clay loam which is heavier. 
This hand texture will help you determine what kind of clay you are dealing with and hence you can determine the best possible treatment.
Treatment:
Since the clay soil is hard, the essential minerals that are needed for plant growth will not be accessible, and hence the grass will not grow. The treatment will help the soil improve its structure and tilth. If the soil has good tilth it will help the plans grow stronger and greener. This treatment will help you grow grass in clay soil. 
Performing the treatment:
To perform the treatment you will have to perform the following steps:
Step 1:
The first step is to combine organic materials while turning the clay over. This is a very easy yet very essential step. Make sure to properly combine both of the things.
Step 2:
In the next step, you will add coarse sand and animal manure to the sand along with some roadbase stones, gypsum, and compost. Make sure you add a decent amount of compost. You can also use any type of animal manure except for chicken. This is the last and final step.
Liquid clay breaker:
A liquid clay breaker will help you a lot. It is useful because it requires less effort. The liquid will easily penetrate the clay soil making room for the roots of the grass seeds.
It will also keep your soil moistened if you use it during the summer. Make sure to commonly use it.
Testing soil again:
After you perform the treatment on our soil. It is time to test it again. The second test will confirm whether or not the soil is ready for the grass seeds. 
How to determine whether if the soil is ready or not?
 To determine if the soil is ready or not you will have to press the soil between your thumb and index finger. If the soil ready it will not form a long ribbon.
If the soil does form a long ribbon that is about 1-inch, you will have to add more organic compost. After adding more compost wait for a few minutes and conduct the ball test again.
Preparing the soil:
Treating the clay soil before planting grass seeds is essential. The best way to do this is to rip the clay apart 350mm to 450mm, this ensures root development and keeps the soil moisturized. This process is also recommended by professionals.
Planting grass seeds:
To plant grass properly in clay soil, you have to perform the following steps:
Step 1:
The first step is to measure the area where you want to plant your seeds. You need to measure your lawn as this will determine how many seeds and plugs you will need. The correct measurements will also help you choose the correct type of grass.
Step 2:
The next step is to divide the seeds into two parts. This will help you plant the seeds. 
Step 3:
In the next step, you will need a broadcast spreader. You will use the broadcast spreader to spread half of the seeds in the selected area. Make sure to walk in a vertical path and spread the rest of the seeds. Both of the selected areas should be perpendicular to each other.
Step 4:
The fourth and final step is to roll the selected area with a lawn roller that is filled with water. You also have to spread some straw mulch on top.
Animals and birds:
Even though it is important to have a green lawn. It is also important to take care of the birds and the animals that are the key reason for your lush garden. Birds and insects feed on pests and grubs whereas insects, earthworms, and some fungi break soil and aerate our garden.
 When you use organic materials make sure that that you keep these essential organisms in mind. Always be sure to only use fertilizers when needed.
Picking the right manufacturers:
The growth of the grass largely depends upon the quality of the seeds make sure that you choose a company that is trusted. For this purpose, you can also ask a professional gardener to help you choose the best seeds for your soil.
Even though you can easily make your garden green. It is best that you ask a professional gardener to maintain your garden and your grass.  If you don't want professional help make sure to maintain your garden properly so it stays lush.
FAQ
What is the best grass for clay soil?
Some of the best grass for clay soil are Bermuda grass, Buffalo grass, and Kentucky grass. These grasses are recommended by professionals as they grow best in clay soil. Hence you can use one of these grasses if you have clay soil in your lawn.
Can you plant grass on clay soil?
Clay soil is hard soil. You can't plant grass directly on it. Clay soil is not good for its growth. If you use the treatment methods mentioned above you can easily grow grass on clay soil.
How to plant grass on clay soil?
The reason why grass does not grow in clay soil is that it is hard and the seeds don't get proper nourishment. If you can aerate the soil, the grass will easily grow. We have explained the process above.
Learn about indoor aquaponic systems to have an excellent experience. 

Conclusion:
In this article, we talked about how you can grow grass in clay soil. Even though the process is a bit difficult, it promises amazing results. We highly suggest that you use one of the above-mentioned treatment processes. If you do one of our methods we are sure that you will get lush results.
As we mentioned it is also important to take care of animals, insects, and birds that have a home on your lawn. Make sure to only use growth products when needed."}" data-sheets-userformat="{"2″:513,"3":{"1″:0},"12″:0}">